Is there anything better than seeing two team-mates fight on a football pitch? The answer, obviously, is no.
Sometimes tempers flare, and while commentators are obliged to say "we don't want to see that in football", we really, really do. Here are 6 memorable football bust-ups you just have to laugh about.
Steve Mcmanaman vs Bruce Grobbelaar | Liverpool
Call it derby fever or pure competitiveness, Liverpool stopper Grobbelaar was livid with a young Steve Mcmanaman, whose failure to clear a ball led to an Everton goal and saw them leading 1-0 at Anfield.Grobbelaar ran to the then 19-year-old Mcmanaman and grabbed him by his throat. Later on, he went on to reveal that he didn't intend to target the teenager but wanted to Mark Walters.
But he chose to stay away from doing so due to racial abuse implications that would've ensued if he had done so. He also said this about the incident:
"I was actually after the person who turned his back on the ball [Mark Walters] and I realised that, if I did something, then people would say I was racist.
So I turned to Steve McManaman, who's the same colour as me, and I shouted, "Put it away, not back into play!" And that was that. So I found Mark in the bath after the game and I took his hair and put it under the bath water and I sat on his head. That's the person that I was after in the first place."
Emmanuel Adebayor vs Nicklas Bendtner | Arsenal
Emmanuel Adebayor is not a stranger to controversy. The Togolese just lost his cool over the 'unprofessional' conduct of his then Arsenal teammate when they were trailing 4-1 to Tottenham in the 2008 League Cup semi-final clash. The Dane had a bloody face which was supposedly due to an Adebayor headbutt.
He explained the situation in detail, which seemed to have been brewing for some time, due to some dressing room issues."There was a rule at Arsenal where no one is allowed to come into the dressing room with trainers or house shoes on. I cannot understand why Nicklas came every day with his shoes on. I said, Nicklas, you are a footballer, I am a footballer. Maybe I am better than you, maybe you are better than me but you have to respect everyone. There are rules saying you cannot come into the dressing-room with your house shoes. Take them off."
"I cannot accept that. Even if that happened tomorrow at City, I would fight with somebody." Looks like Adebayor is quite a disciplinarian.
Benoit Assou-Ekkoto vs Benjamin Moukandjo | Cameroon
The 2014 FIFA World Cup in Brazil gave us a lot of moments to cherish and one of them was this incident that involved two Cameroon players. The 'Indomitable Lions' were trailing 4-0 to Croatia in their group A encounter when a scuffle broke out between Benoit Assou-Ekotto and Benjamin Moukandjo.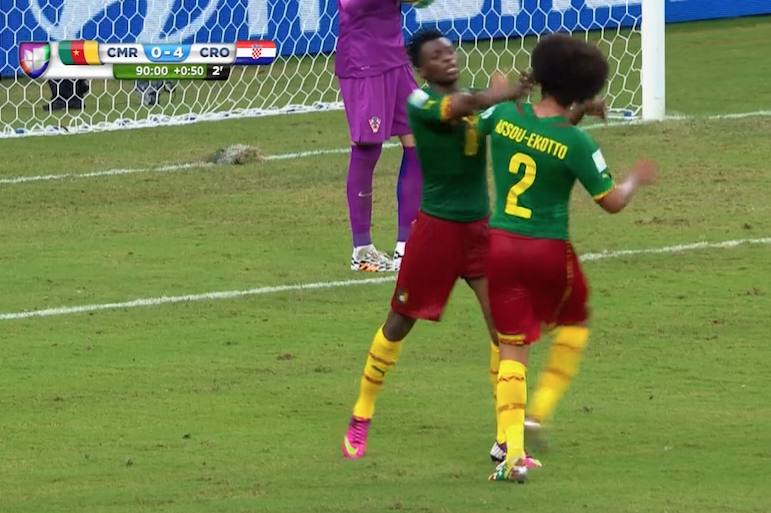 It got ugly soon when Assou-Ekoto looked to headbutt Moukandjo and shame beckoned upon Cameroonians as they were knocked out of the tournament.
Lee Bowyer vs Kieron Dyer | Newcastle United
This has to be the big daddy of all the on-field teammate brawls. Newcastle United players Lee Bowyer and Kieron Dyer not being on the same page was a widely reported feature in the British media. But no one had imagined that it would result in something this ugly, and frankly, a little too silly and embarrassing on the field at St. James' Park.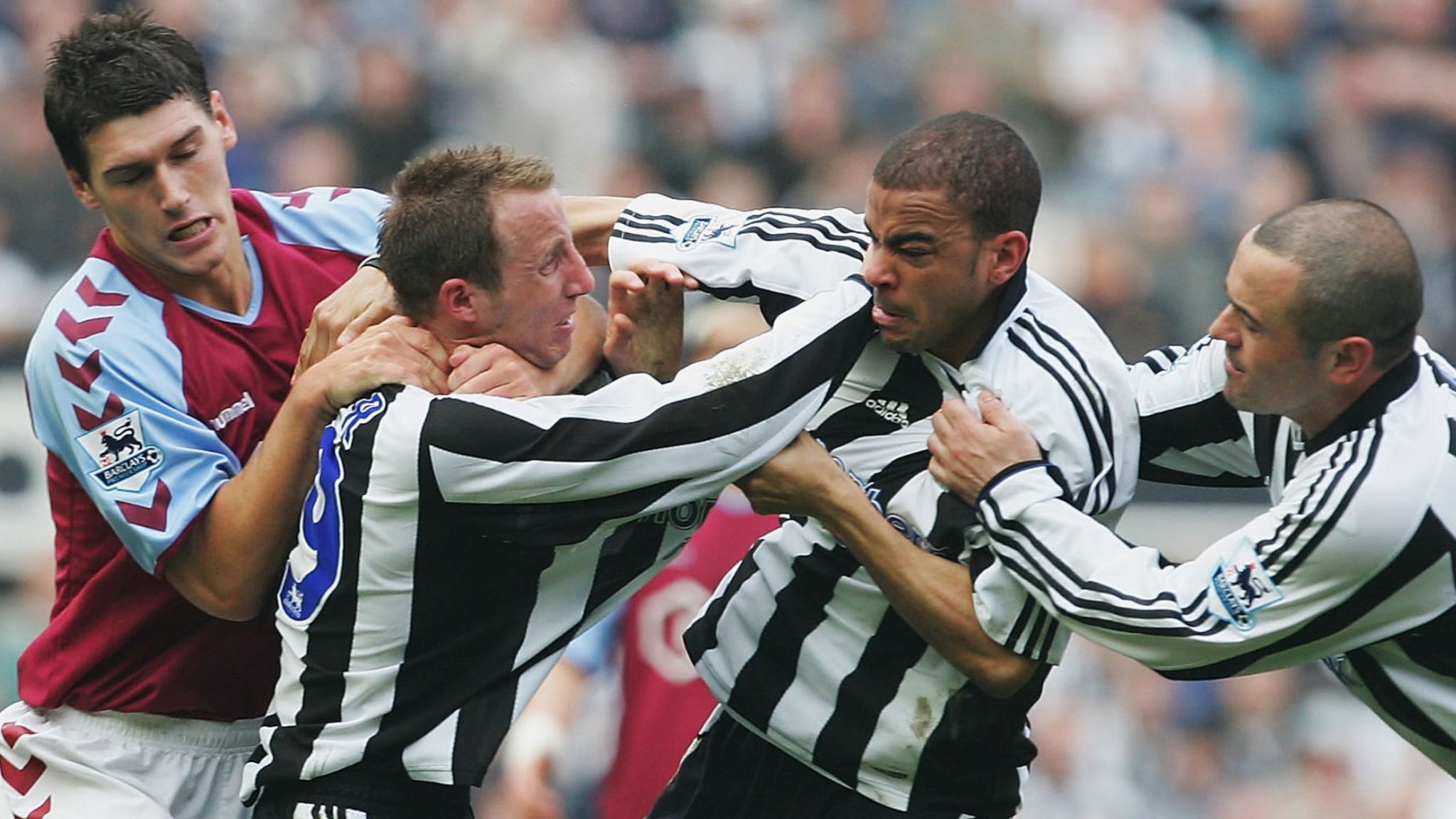 The Toon were trailing 3-0 to Aston Villa when the cameras caught both of these gentlemen getting together supposedly to discuss their differences and poor performances, but to everyone's surprise, they got into this fight which is now part of football folklore
Mario Balotelli vs Aleksandar Kolarov | Manchester City
Mario Balotelli is never far from controversy, and his presence ensures there will always be fireworks. Manchester City were trailing 3-1 at the Etihad to Sunderland when they were awarded a freekick. Things got testy between Balotelli and Kolarov, both two hot-tempered players as they got into a war of words over who will take the free kick.
Vincent Kompany's intervention ensured that a brawl was averted or else Etihad would have witnessed scenes of epic magnitude. Although City went on to win the title that season in a dramatic fashion, people still talk about Balotelli's role in the fight rather than his assist for Aguero's winner against QPR.
Lloris & Son | Spurs
Tottenham earned a drab 1-0 win over Everton in July 2020, but the biggest talking point came when the half-time whistle blew.
Despite being in the lead, Hugo Lloris was unhappy with Son Heung-min for failing to track back and the goalkeeper confronted his team-mate at the interval. The pair had to be separated by team-mates Giovani Lo Celso and Harry Winks, although they eventually embraced each other at full-time.
Instead of criticising his players, manager Jose Mourinho said that the incident was "beautiful".