Sports
Talking Points: Chelsea and Liverpool's Stalemate Reflects Disappointing Seasons
Chelsea and Liverpool continued to underwhelm as their seasons were largely summed up by a fourth successive goalless draw between them.
In their first match since Sunday's sacking of Graham Potter, Chelsea started much the better against a Liverpool side showing six changes from Saturday's loss to Manchester City, with Mateo Kovacic and Kai Havertz both going close before Reece James had a goal ruled out for offside.
Liverpool took a while to show any real attacking intent, although Fabinho struck a deflected effort just wide before Joe Gomez tested Kepa Arrizabalaga from distance. Kovacic blazed a glorious chance over the bar in the second period before Havertz had a goal ruled out for handball.
Here are the game's talking points.
1. Seasons summed up
This was the fourth successive goalless draw between Chelsea and Liverpool, but it had a lot more in common with the third than the first two.
That initial pair had come in the two domestic cup finals last season, and although they weren't classics they did at least show the energy and smart play that both sides were capable of. And we got to see some penalties afterward. Then came January's disjointed draw at Anfield, which showed just how far a muddled Chelsea and a tired Liverpool had fallen.
This was more of that, although it is Liverpool who should be more disappointed with their performance.
2. Jurgen Klopp rings the changes
One of the biggest talking points from this game was always destined to be Klopp's selection from the moment he made it.
The Reds manager had admitted that changes had to be rung after his team were played off the park by Manchester City, but few if any would have predicted that six were on the way, even if the absence of Virgil van Dijk was down to illness.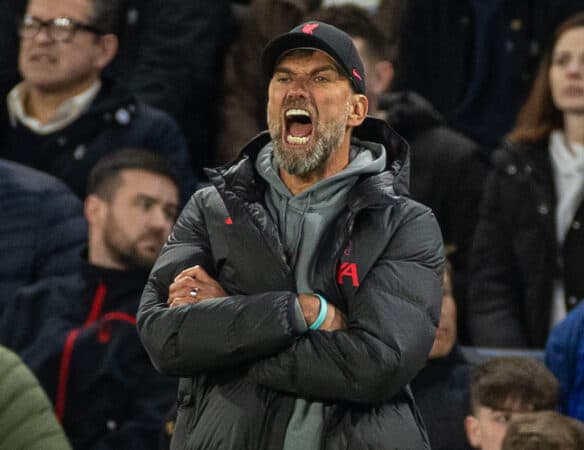 It could of course be argued that Liverpool have needed to make more changes more often this season, but it was still startling to see Mo Salah, Andy Robertson, and Trent Alexander-Arnold warming up with the substitutes before the match, albeit the trio were in high spirits.
Given the changes, it was perhaps to be expected that the Reds would be disjointed in the opening exchanges, although they had luck and their goalkeeper on their side as Joel Matip, Ibrahima Konate, and Alisson all strained to keep Chelsea at bay. The Blues started well and could easily have led.
3. N'Golo Kante the king of Chelsea's castle
One thing that you cannot deny that Potter was unlucky with was the absence of N'Golo Kante for almost the entirety of his reign.
The 33 minutes that the Frenchman played in what proved to be his manager's swansong in the defeat to Aston Villa last Saturday would prove to be the only 33 minutes that he had in charge of him, and here, with the captain's armband on, Kante showed just what he brings to a side when he's available.
A lack of dynamism in midfield has been Liverpool's problem all season but Kante, who will be 33 in July, was simply born dynamic. It didn't seem to matter that he'd barely kicked a ball all season as he motored around the pitch in the first half, leaving Liverpool's players trailing in his wake.
Potter must only wonder what might have been if he'd had him fit.
4. Ibrahima Konate stands tall for Liverpool
From one Frenchman to another, and from the heartbeat of their 2018 World Cup winning side to a player who could end up being at the heart of future successes.
It was never easy playing centre-back for Liverpool at the best of times, something which should put Van Dijk's quality into perspective, but in Konate they have a player who, while not the finished article yet, is comfortable with the sometimes chaotically high line that the Reds often insist on playing.
He continues to learn on the job in a team that is not making life easy for him, and Liverpool can only hope that nights like this help him in the long run.
5. Chelsea's striking worries
Had he been watching on somewhere in deepest Sussex, Potter would have nodded a knowing nod of the head at the several chances that came and went for his now former side.
The Blues were frequently passing up opportunities in the first half, but then in the second came perhaps the worst miss of the lot when Kovacic blazed over when clean through, but Havertz must have known the VAR decision to rule out his strike for handball was coming.
Chelsea, who didn't have Pierre-Emerick Aubameyang in their matchday squad, were so wasteful in front of goal, and despite all the signings a new striker must surely be something any incoming manager wants.