Frank Lampard's Everton tenure begins in earnest now. It was quite the baptism of fire in the hot seat for the new manager, with six months of nerve-shredding and pragmatic football that ultimately saved the club's skin and maintained their top-flight status for at least another season.
Now, some may say, the hard work starts. Lampard may rebuke that and state keeping Everton up was no easy task and one of the most notable achievements of his footballing career to date. However, now is the time for the former Derby County and Chelsea manager to lay out how he wants Everton to play.
He indicated in the latter stages of last season that in the medium-to-long term his desire is for Everton to play on the front foot and be a more competent attacking side.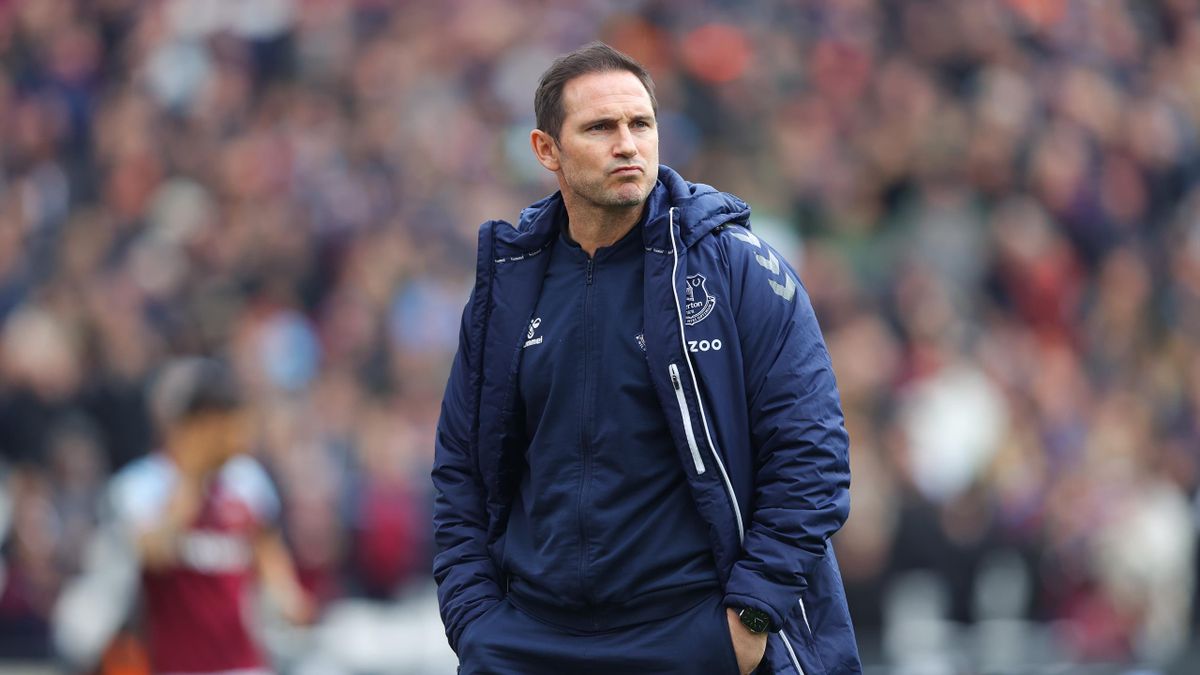 Throughout the last campaign, which started under the management of Rafael Benitez, Everton appeared toothless up front and lacking confidence at the back, in midfield they were mediocre with the breakthrough of local winger Anthony Gordon being a rare positive. A 10 percent goal conversion rate and 1.7 goals conceded per game highlighted their troubles at either end.
What made last season worse was the huge outlay that had been overseen by Farhad Moshiri, the club's owner, and Marcel Brands, the director of football. The disjointed thinking and muddled approach undermined Everton's cause. Brands left and has since been replaced by Kevin Thelwell, but this summer Lampard has been forced to wave goodbye to his leading goalscorer.
Richarlison, Everton's best player for the past few seasons, has been sold to Tottenham Hotspur for an initial £50 million to improve the balance sheet. Financial Fair Play has cast its shadow over Everton of late, but only now are their tangible results. Making do without Richarlison's goals will take some effort, especially considering there are few options of signing a proven goalscorer before the transfer window closes.
Dominic Calvert-Lewin experienced an injury-ravaged season last time out and will hope for a more consistent campaign, possibly leading to a place in Gareth Southgate's England squad come to the World Cup in November.
More will be asked of Gordon, Demarai Gray, and Alex Iwobi in the attacking third, while the arrival of Dwight McNeil from relegated Burnley is a promising move, albeit the 22-year-old was far from his best during the Lancashire club's troubles the last term. Ruben Vinagre, the former Wolverhampton Wanderers left-sided player, also comes in on loan from Sporting Club to add to Lampard's options.
However, the manager will be the first to admit that his primary focus is on bolstering a defence that failed to instil confidence when keeping just eight clean sheets last season, shipped too many goals from set pieces and frequently shot themselves in the foot through individual errors.
Signing James Tarkowski on a free from Burnley addresses a sizeable number of the qualities that Everton's defence have lacked. The 29-year-old is dependable, having started more than 30 league games in each of the past five seasons, has leadership attributes and is strong in the air. But his arrival alone may not prove enough.
More additions may come later in the window, and supporters hope that the squad will look somewhat different come early September, but the realities of financial constraints are starting to bite.
That means Lampard must oversee improvements via the training pitch. Having a full pre-season should help matters but there remain genuine questions surrounding the quality of players at the manager's disposal — further highlighting the mismanagement concerning transfers that have been allowed to happen of late.
What Lampard does possess, however, is the backing of the Everton crowd. The strong bond that was forged between Lampard and the supporters was apparent as Everton crawled over the finish line. That night against Crystal Palace will live long in the memory of many Everton fans, rightly or wrongly. Last season's episode did light the touch paper and the supporters do feel more secure with Lampard as their figurehead.
The galvanising impact that Lampard had on the club will be something that the manager hopes will continue into the new season. Banners, flags, flares and songs were dusted off late in the campaign to great effect. However, Lampard is fully aware that the current of the crowd is not enough to see Everton through a full season, they need more.
The focus will therefore be on the relatively inexperienced manager, who does have a strong coaching team around him, and players who will look to prove that last season was simply a case of underperforming.
It starts with a home game against Lampard's former club, Chelsea, on Saturday evening before a trip to face Steven Gerrard's Aston Villa the following weekend. The wish of a first trophy since 1995 persists but supporters realise that their club have a long way to travel before they can feasibly challenge even for cup honours.
Can Dele Alli make Everton feel like home? Will Jordan Pickford perform well enough to ensure he goes to the World Cup as England's No 1? Who will supply the goals? Can Tarkowski bring the best out of Everton's defence? Will Allan and Abdoulaye Doucoure return to the levels seen earlier in their Everton careers? Can Gordon become even more integral to his local club? Will Lampard last the season?
These are all pertinent and realistic questions waiting to be answered.
Prediction: 14th
Unless Everton pulls something out of the proverbial top hat over the next coming weeks, the weight on Dominic Calvert-Lewin's shoulders will be immense. Goals were not something that Everton created in abundance last term and selling Richarlison has not only seen their top-scorer leave, but also their key attacker.
Given that Dwight McNeil is the only player Everton have paid money for so far (James Tarkowski arrived on a free transfer and Ruben Vinagre is on loan), it's clear that the club's hands are tied in the transfer market.
Therefore, any strides Everton makes this season will be largely down to Frank Lampard's work on the training pitch. A mixed pre-season should not be read into too much, but a good start is what Lampard needs.
The quirk of this Premier League campaign effectively being split in two by the winter World Cup is unique and poses questions of its own, but one would assume that the clubs with the strongest squads will fair better. Everton does not possess such luxuries but will see many of their players effectively given a month's break as they are not regulars for their international teams.
This could help Lampard's cause but the manager himself has said that his team development is going to happen in steps with improvements gradual but steady. It is likely that Everton will be amongst the bottom third in the standings once more. Winning more games against those positioned around them should see some improvement in the last term.