Sports
Liverpool 1-0 Aston Villa: 5 talking points as Salah ruins Gerrard's Anfield return
Steven Gerrard returned to Anfield to a standing ovation from the Liverpool fans after being away for six years on Saturday. However, the joy of return was as good as it got for the Aston Villa manager. He suffered his 2nd league defeat in charge of the team with the first coming against Manchester City earlier this season.
Liverpool had chances to score in the first half which they failed to take. In the second half, they tightened the screws while attacking the Kop end and finally won a penalty through Mohamed Salah. Salah gave Liverpool the lead, converting the penalty. Liverpool had several more chances on the break as Aston Villa tried to find a goal back but none of them hit the back of the net.
The win puts Liverpool in 2nd place behind Manchester City as they look forward to their next game against Newcastle United. Aston Villa, meanwhile, stays in the 12th spot and will be up against relegation facing Norwich next.
Here's a look at five talking points from the game.
Emiliano Martinez's defiance was commendable but not enough
Emiliano Martinez put on a really solid showing at Anfield against a Liverpool team who had scored in every game this season leading up to this one. Martinez got down low to deny Mohamed Salah and Andy Robertson in the first half at his near post. He kept out Joel Matip's header in the first half as well.
Alisson was on the luckier side today and he better pulls his socks up to avoid situations like he got himself into today. In the first half, he misjudged a bouncing ball and allowed Ashley Young to nod it past him while the goal was open. Matip got back to stop the cross on that occasion.
Similarly, in a 2nd half scramble, he left his goal high and dry while trying to gather a ball. It resulted in a proper pinball situation where his clearance hit his own player and came back. It was a pandemonium situation that could easily have ended resulting in an Aston Villa goal.
He didn't have much to do today but he still could have been the center of attraction if not for his luck. He gets his 8th clean sheet of the season but not without heart in the mouth moments.
Aston Villa's defense continues to show tangible improvement under Gerrard
Steven Gerrard has done a more than satisfactory job in his first five games in charge of Aston Villa. The defense has been tightened up by the former Rangers man for good measure and that's evident on the pitch. Against Brighton, Crystal Palace, and Leicester City, Gerrard's men gave away very few high-quality chances.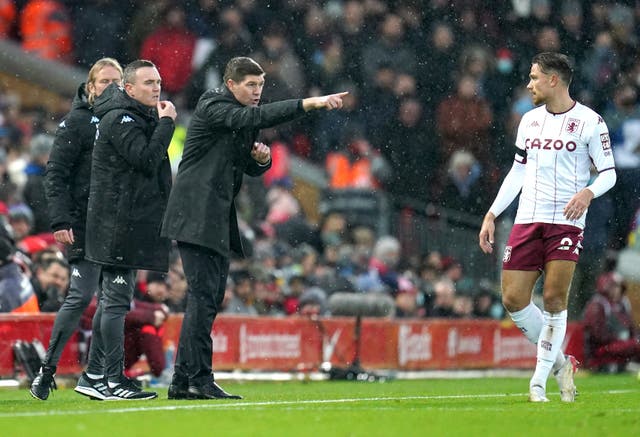 With Liverpool, it was bound to be tougher, yet they managed to restrict them to a single goal. In part, it was thanks to Emiliano Martinez. Even otherwise their defenders Ezri Konsa, Tyrone Mings, and Matt Targett put their bodies on the line more than once to make blocks. Ashley Young, who played ahead of Buendia, also showed resolve in defending while McGinn and Luiz did a lot of dirty work in the middle. With a little bit of luck, they could have come away with at least a single point in this.
Douglas Luiz puts in a solid shift even though in a losing cause
Douglas Luiz played really well even in the game against Manchester City. His presence and absence can be felt in the Aston Villa midfield. On paper, the midfield of John McGinn and Luiz isn't supposed to be troublesome for Jordan Henderson, Thiago Alcantara, and Fabinho. But on the pitch that was the case.
Aston Villa evidently wanted Liverpool to go through the wings, in which case they had the height to deal with deliveries inside the box.
Luiz did really well in pinging balls forward while playing out of the back and covering the ground to press Liverpool. He came out on top in nine out of the 12 ground duels he was involved in. He also made five successful tackles and completed 100% of his attempted long balls (5/5).
Although on the losing side, his effort was very commendable.
Mo Salah is inevitable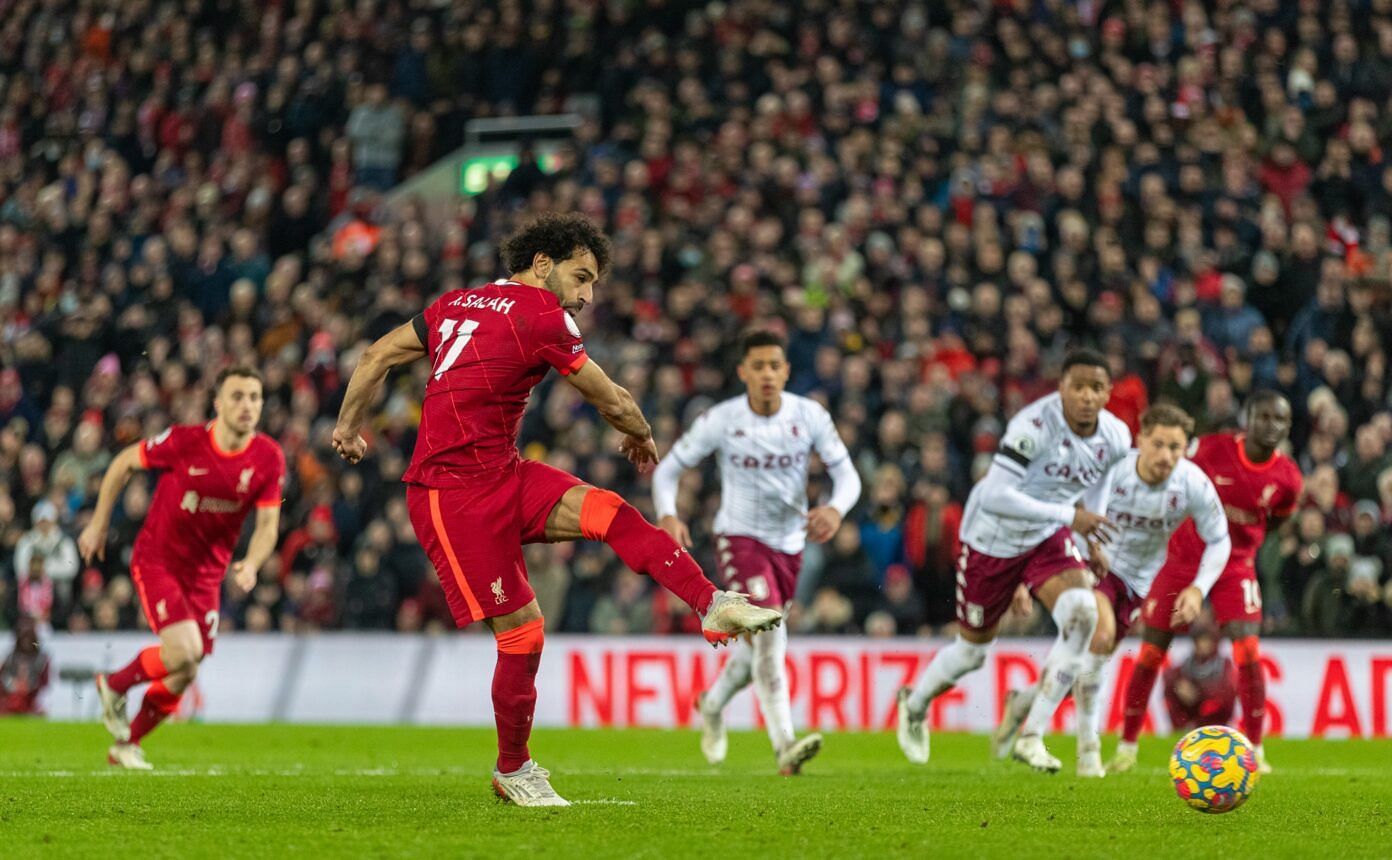 Salah looked to be on a song from the get-go in the match. He slipped Sadio Mane through early in the first half which was quickly picked up by Martinez. After some time, he sent Tyrone Mings to the cleaners while getting the ball into his favorite left foot and was denied by Martinez down low.
In the 2nd half, he continued in the same way, running at Tyrone Mings and winning a penalty before coolly converting it. As the 2nd half wore on, he was the centerpiece of every Liverpool break. He slipped in Diogo Jota twice, both of which should have ended in a Liverpool goal.
On his day, he cannot be contained. McGinn and Young had to put on a double team to try and contain him but he still wouldn't stop when he is on it. In the last 12 games, he has failed to score or assist only once. That tells you how much Liverpool needs this man. He is inevitable.