Editor's Picks
Explained: How Roberto Firmino is leading Klopp's Liverpool revolution
Liverpool have not been enjoying the 2022/23 season so far. So used to challenging for silverware, they are down at eighth in the Premier League, 12 points behind leaders Arsenal but just seven clear of the relegation zone.
Injury issues certainly have not helped their cause. Going into their Champions League match against Ajax, the Reds will be missing seven first-team players: Arthur, Darwin Nunez, Diogo Jota, Ibrahima Konate, Joel Matip, Luis Diaz, and Naby Keita.
Critically, they are missing multiple players who can play the same role in their 4-3-3 system – Arthur and Keita would both be left-sided midfielders, Konate and Matip are right centre-backs, and Jota and Diaz are left-wingers along with Nunez, who has primarily played as a striker.
It should be said that Liverpool's summer transfer business should also be blamed for the lack of depth they now have in certain positions, but that is a story for another day.
Partly due to all of these absences, Jurgen Klopp has switched to a new formation in recent fixtures. Colloquially, it is being referred to as a 4-4-2, but more accurately, it is a 4-2-3-1. Either way, it appears that he will be sticking with it for the foreseeable future at least, so it is worth taking a closer look at this new system.
Increased defensive solidity
Liverpool have been facing such injury problems from the start of the season, but the tipping point for their change in shape was a run of games where their defence looked shaky.
In the five matches prior to their 7-1 thrashing of Rangers, Liverpool conceded 11 goals, of which 10 came against Napoli, Brighton, and Arsenal. Of course, these are three top sides, but Liverpool are supposed to be at that level too, so that does not justify their defensive issues.
Previously, of course, Liverpool defended in a 4-3-3 shape, but in the last few games, they have been using a 4-2-3-1. Klopp himself has said that this change in formation was mainly done to fix Liverpool's defensive issues.
📺 Jurgen Klopp on changing formation:

"The 4-4-2 has ability to close the gaps we had before. When you get used to things, you lose a little bit of desire for the detail." 🔴 pic.twitter.com/Eq4Bhx5Zfx

— Anfield Watch (@AnfieldWatch) October 21, 2022
When he implies that the change in shape is minor, Klopp is pointing to the fact that Liverpool still works with a back four and presses high up the pitch with one striker and two wingers. The main difference is in the makeup of their midfield, which has gone from one deeper midfielder and two in the half-spaces to two deeper midfielders, while there now is one player defending directly behind the striker.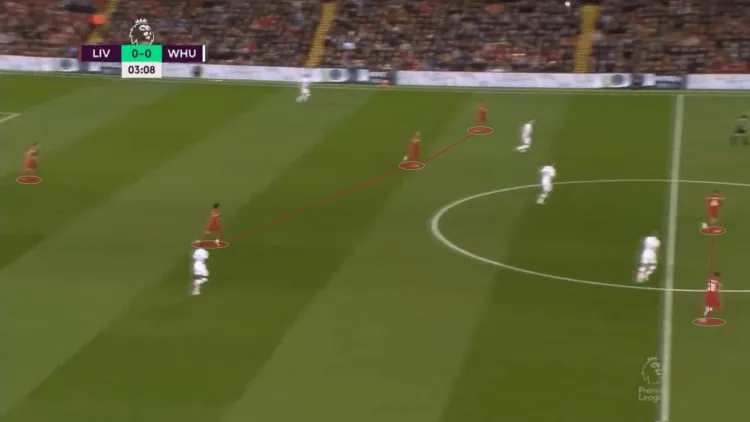 This likely is what Klopp is referring to when he says that the new shape helps close down certain spaces. Previously, with the 4-3-3, Liverpool did not have anyone designated to mark those in the opposition's defensive midfield, who could find themselves freed up in certain instances. Brighton particularly looked to exploit this in their match in early October, and a couple of their goals originated from build-ups that involved free defensive midfielders.
Much more than an aesthetic obsession, building up from the back consistently and patiently has an ethos of pure intention with De Zerbi. Attract > Create offensive spaces > Attack those spaces.pic.twitter.com/ATatQKL6pr

— De Zerbian Church (@DeZerbianChurch) October 1, 2022
Now, though, the man behind the striker, Roberto Firmino usually, takes care of this.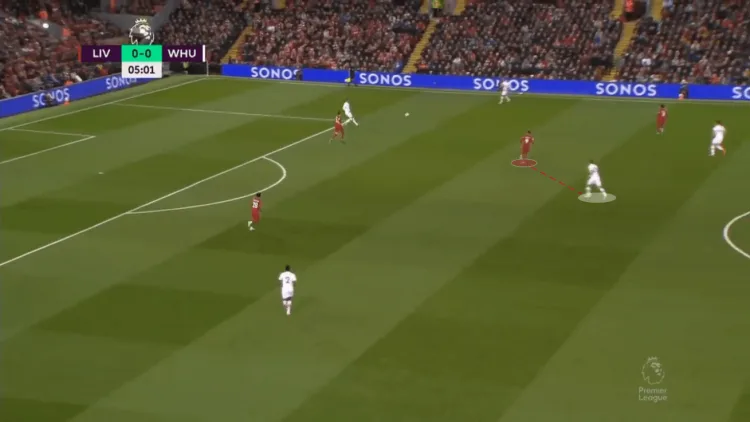 Multiple members of the Liverpool coaching staff have praised Firmino for his work out of possession, and he is arguably the most important player in their new system in that sense. Liverpool adopt a very ball-oriented press, meaning that the entire team shifts over to the side that the ball is on.
Firmino's work rate and decision-making are key to this because he is generally the extra man closing down the player in possession on the wings, so he has to make the call to leave the defensive midfielder and quickly move across to the wing. When he does so, the Brazilian international starts a chain reaction that also sees the far-side winger close down the defensive midfielder, who can become a pressing trap in this process.
Here is an example of West Ham finding that out, as Fabio Carvalho caused Tomas Soucek to lose possession after Firmino moved across to the right.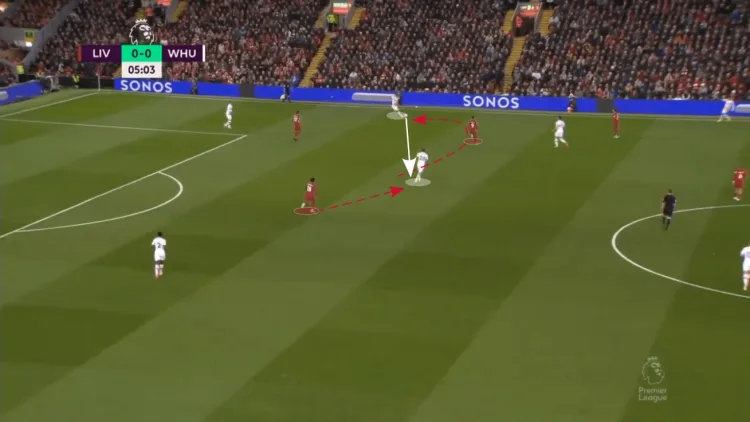 This slight change in shape has significantly helped Liverpool disrupt the opposition's build-ups, which is something that is key to their style of play. In fact, they have the highest build-up disruption percentage in the league this season at 9.73%, which is significantly higher than Leeds' 5.56%, which is the second-best figure in the division.
Perhaps confusingly, Liverpool's underlying numbers do not seem to have improved. In their last four games, in which they have used this new system, the Reds have been able to restrict their opponents to a tally of lower than 1.0 xG on just one occasion, which is about as good a record as their five games prior to the change in system.
Looking closer, though, we find that in only one of those three instances have Liverpool conceded more 1.0 xG from open play, against Nottingham Forest. That was not entirely representative of their performance because most of the big chances they conceded came late on when they were chasing the game and throwing a lot of bodies forward.
This does mean that Liverpool need to work on their defending from set-pieces, but that is a separate issue. As far as formations and defensive shapes are concerned, it is clear that this new system has made Liverpool tougher to break down in open play.
Similar structures in possession
While Liverpool's defensive shape has changed, they still look pretty much the same in possession.
The main reason behind that is how they set up with the ball in the 4-3-3 system. Their shape was quite asymmetrical, as the left-back, Andrew Robertson, pushed further forward than the right-back, Trent Alexander-Arnold, who stayed deeper in the build-up before getting forward later on.
In midfield, the left-sided central midfielder (Thiago when fit) stayed deep to create a sort of double pivot, while the right-sided midfielder got forward in the half-space. All of this also meant that the right winger, Mohamed Salah, generally stayed wider than the left winger, whose positioning in terms of width depended on how far forward Robertson was.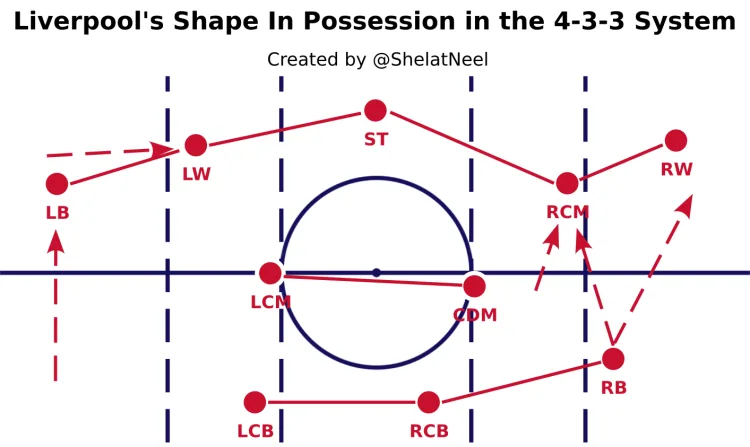 Liverpool shape in 4-3-2-1 Formation
This central attacking position might seem unfamiliar to Liverpool's squad at first glance, but in reality, Firmino was already playing a similar role when starting centrally in the 4-3-3. He was encouraged to drop deep from the striker position then, as his touch map from the season prior to Liverpool's change in system shows. In the new setup, he has greater freedom to stay deeper.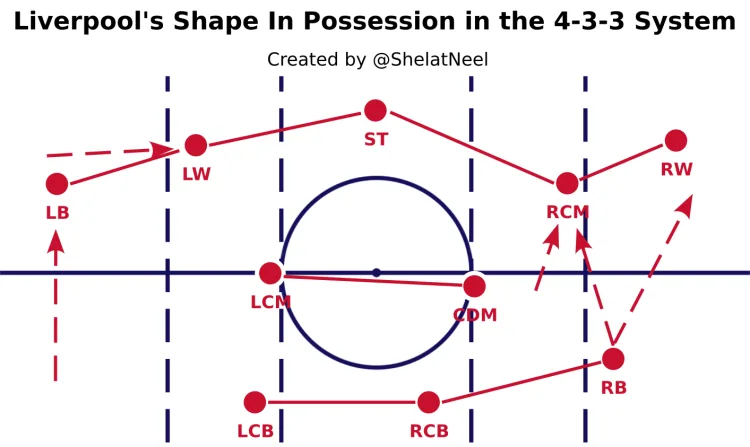 This means he is having a greater involvement in play in possession, managing over 40 touches in each of his four starts in this 4-2-3-1 system. In those games, he also completed 15 progressive passes and created 7 chances worth 1.0 xG, which is greater than his tally for the rest of the season. While he does that, Liverpool always have a more natural number nine to stretch the opposition's back line, which further helps them open up more spaces between the lines.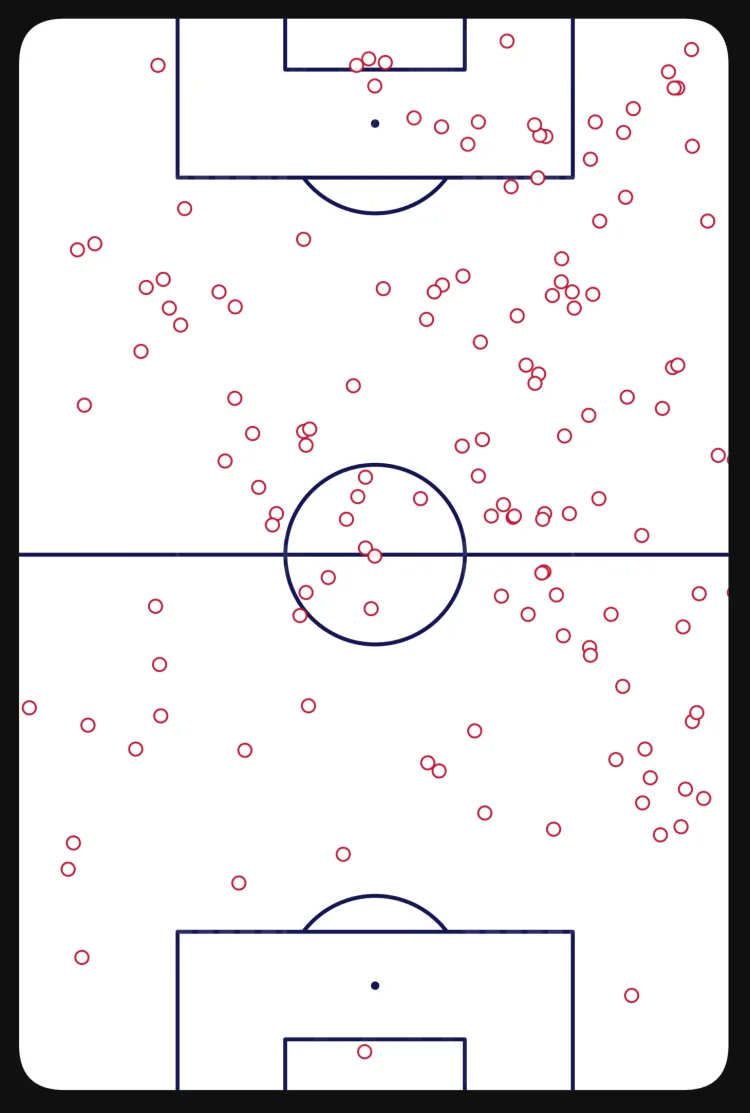 That is all to say that Liverpool have seemingly become more potent when their opponents try to press them or in transition, but questions still remain about their ability to break down deeper defensive blocks. The match against Nottingham Forest highlighted this, as Liverpool struggled to create any noteworthy chances from sustained possession for the first hour of the match and only looked dangerous after they started taking risks in search of an equaliser.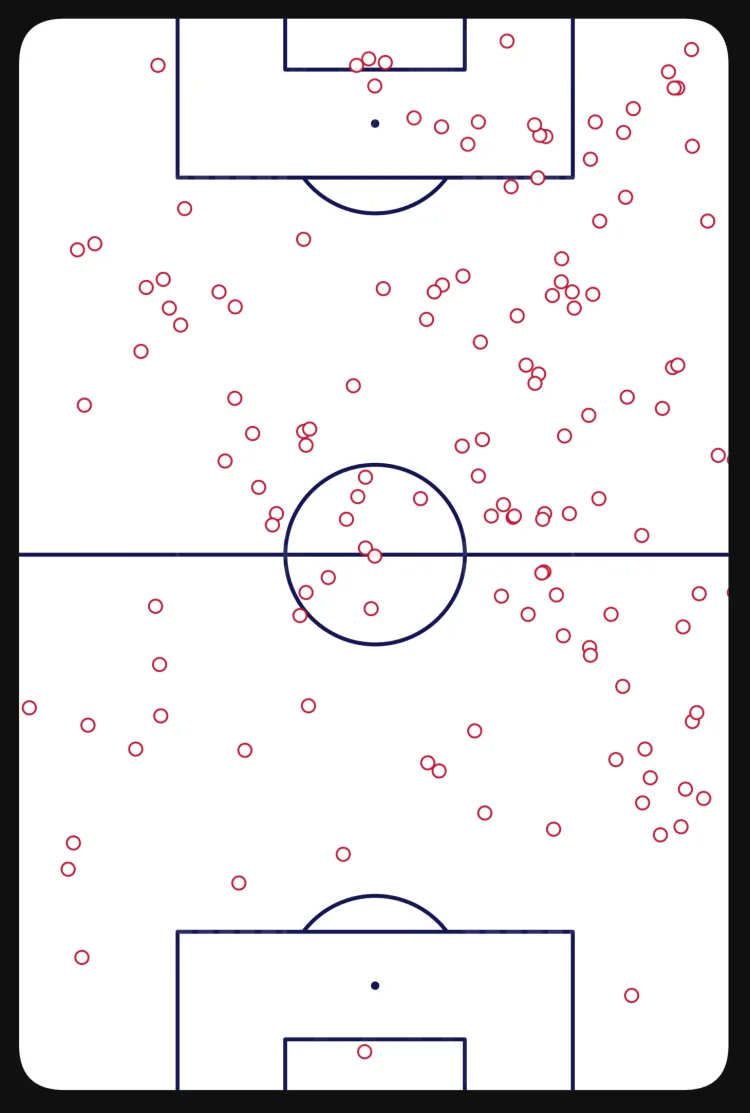 Our Verdict
Liverpool's attacking against deep blocks is the main concern that Klopp and his coaching staff will have to address in the next few days, but on the whole, the switch to the 4-4-2 system is doing a good job of solving some of their problems. Their defending and pressing has improved, while the reduced number of midfield positions and more inside left-winger role has enabled them to work around some of their injury issues.
Their big points deficit to the league leaders already combined with squad depth issues in the season of the World Cup means that Liverpool might well already be out of the title race, so their focus now should be on securing a spot in the top four and qualifying for Champions League football next season.
Of course, they should still aim to win the cup competitions they are in, and their new system appears to be suited to that thanks to its strengths against possession-based and high-pressing opposition.
A third of the way into the new season, there is still time left for Liverpool to salvage something from it. Klopp is leading them in the right direction, but there remains work to be done.